Over the last couple months, we were part of the Business On Tapp Flash Mob! For those that don't know, Business On Tapp is a Social Network focused on education, tips, tricks, and information sharing for entrepreneurs and business owners. If you haven't downloaded the app yet, you definitely should HERE!
So we ended up as a finalist in the Flash Mob contest. We were up against two great businesses in Cangaroo Cosmetic Sharpener and JJ Web Design. The hive came out in full force to support us and we ended up winning! It was one of the coolest experiences that we've had in our short history.
Last week, I was flown to Bluehost headquarters to meet many influential people who all had amazing advice, tips, and information to share with me. It was amazing to meet with people that are so successful with such big companies still willing and excited to help a young small business owner. I was completely blown away with their hospitality, friendliness, and sincerity. They were all truly focused on helping me improve Bee Social and continue to be successful long into the future.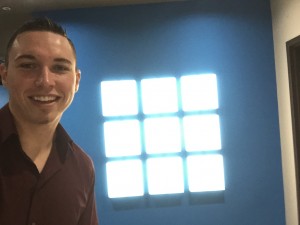 Some of the amazing people that I met with:
Mike Olson, CEO of Bluehost
Dave Rogers, Bluehost Head of Sales
Eli Rolf, SEOGears (below)
James Grierson, COO of Bluehost
Daniel Urmann, CEO of Diib (below)
Curt Raffi, Endurance International & Business On Tapp
Melanie LoBue, Endurance International & Business On Tapp
Hoby Darling, CEO of Skullcandy
I cannot thank the people at Endurance, Business On Tapp, Bluehost, Diib, SEOGears, and Skullcandy enough! It was an amazing experience that will help to propel Bee Social into the future! VERY Special Thank You to Melanie LoBue and Curt Raffi for planning the whole trip and making it a perfect trip! You're the best!
Stay tuned for more information about the trip and many, MANY videos! Keep Buzzing!